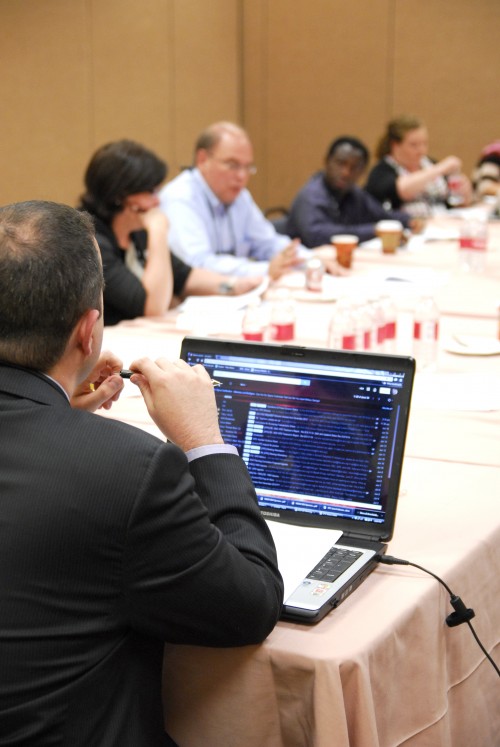 Article for the "ANS GLOBE" journal from the SFANS (French section of the ANS)
The tour of nuclear facilities in France for US faculties: the tenth edition in 2018. An example of the enhancement of cooperation between U.S. academic world and French nuclear R&D and industry sectors. / Dominique GRENECHE
Since 1996, every two or three years, the French Local Section of the American Nuclear Society (SFANS), which is also a section of the SFEN (the French Nuclear Society for nuclear energy) hosts a tour of various unique facilities within the extensive French nuclear industry. This trip is now well-known as "The Tour de France" (TdF), with reference to the famous international cycling competition which takes place every year throughout the country.  In total, already more than a hundred participants from universities in 26 different States have been able to participate in these trips whose fame is now widely established in academia in the United States and which constitute the "flagship" of the SFANS activities. This event is partially funded by the two French industrial nuclear actors in the nuclear field being ORANO and EDF. The CEA (French Atomic Energy Commission) and ANDRA (National Agency for nuclear waste management) also make a contribution to this tour through invitation to different meals.
This year was a special one because it was a sort of anniversary for this event: this TdF celebrated its tenth edition!
The objectives are in line with the main goals of the SFANS being to promote and develop exchanges about the status and knowledge of nuclear science and technology development and achievements in France and in USA in the different technical fields (operation and construction of reactors, fuel cycle, waste management, R&D…). The technical program and exchanges and discussions focused this year on the back end of the fuel cycle including the review of issues related to waste management and the option of vitrification of high level long-lived waste adopted in France. Within the framework thus defined, the main objectives of this event are to:
Provide to US Professors of nuclear engineering the relevant information on French nuclear programs that they could deliver and dispatch for the benefit of their students in US universities.
Enhance the mutual links between SFANS and ANS through the participation of US professors of nuclear engineering, most of them being active members of the ANS.
Organize and exchange views between respective academic programs and engineers training courses in nuclear energy in France and USA.
Fourteen faculties from eleven universities were hosted from July 1 to 7, along with their guest (for eight of them, for whom a special tourist program was prepared).
The week-long tour started with a Sunday noon welcome reception and dinner in a hotel in Paris. The meeting was mainly devoted to present the detailed program of the tour and to provide a short insight of nuclear energy in France, starting with its historical aspects.
The Monday-morning started a rigorous series of daily travels and tours of major French nuclear infrastructure industries including in order by day (web sites of all facilities visited, with some videos or general documents, are provided at the end of this article):
A visit at "EDF-LAB", a new R&D center of EDF, located on Paris-Saclayarea, which is the research-intensive and business cluster currently under construction south of Paris (this area brings together private and public sector actors with large research facilities and research institutes, universities, French higher education institutions ("grandes écoles") and also research centers of private companies). This meeting began with a general presentation of EDF's R&D activities, followed by a visit of the "showroom", in particular with a demonstration of capabilities of a 3D computer detailed visualization of the inside of a PWR (which can be used for preparing maintenance operations). Then, a 2 hours meeting brought the occasion to the US professors to present their activities and to exchange and discuss with EDF R&D representatives on various R&D topics.
A trip to Marcoule near Avignon where the MELOX facility (MOX fuel fabrication facility for plutonium recycling in light water reactors), and the ATALANTE main hot laboratory for research on advanced fuel cycles were visited.
A trip to the center of France (north of Lyon) to visit the Framatome St. Marcel factory in Chalon sur Saone, which manufactures large LWR components, in particular main vessels, steam generators and pressurizers.
Travel to the Northwest of France to visit Bure, the deep geological high-level waste repository laboratory, in particular the surface technological space and the network of underground galleries where various experiments are conducted.
On the last day a detailed tour of the La Hague reprocessing plant, followed by a finishing tour of the Flamanville III EPR construction site.
The tour was capped the next day, Saturday 9, by a personally guided tour of the Normandy coast with visits to major WWII battle sites (in particular the "D-day" beaches) and memorials.
Each daily technical tour included detailed lectures of the industrial processes followed by detailed tours of the facilities. Every day participants seemed increasingly amazed by the facilities, the technology, the organizations, and the quality of the people and processes.
As valuable and informative as the tours themselves were, the participants looked forward each day to the opportunities to discuss technical issues over the finest lunches and dinners to be found in the various regions of France that were visited. In the end all came away with a very deep appreciation for the French nuclear industry, the extensive heavy industry infrastructure, the broad educational programs in place to fuel the industry, and also with a bevy of material to enhance every one of the courses each faculty member teaches.
At the end of the tour, participants were asked to make a report summarizing their reactions and comments on the organization of the trip, but especially related to their perceptions of the French nuclear industry and how this information could be valued in their respective nuclear engineering courses. All participants (100 %) wrote their reports, which constitute a collection of contributions in a document of more than 50 pages. Below is a very short overview of some of the feedback and comment about this tour:
I had an emotional response that was like a child visiting a toy store. It is difficult to describe it in a technical way, but I think that most engineers and scientists simply enjoy experiencing engineering and science in such a real setting. Being able to witness things first hand gives me an appreciation of how things work that I hope I will be able to pass on to my students.
I thoroughly enjoyed the "Tour of French Nuclear Facilities", it was very useful for the US professors to understand that there are other alternatives to support a country's nuclear program (e.g., reprocessing/recycling vs. storage/disposal). The organizers (of this tour) had done a marvellous job in planning, preparing, organizing, and leading the tours for us.
This is an excellent program that is well conceived and executed. I learned a lot about the French nuclear enterprise and came to appreciate it even more. I will recommend it to my colleagues.
This tour is really tuned to perfection. Each facility treated us with kindness, respect and devoted attention.
It was absolutely the best professional trip I have experienced in my professional career.
I can't impress in words how well coordinated the entire trip was in all elements. Logistically, transportation, food, and hotel stay are the obvious elements that comprise organizational components of a trip. The trip and all elements were flawless.
The organization and logistics were fantastic! Everything was perfect.
In conclusion, the objectives of this tour were clearly met and even exceeded in some areas. This long-prepared event fits perfectly with the mission of the SFANS which aims to promote and develop the Franco-American exchanges in the field of nuclear and achievements in general (operations and construction of reactors, fuel cycle, R & D).
A group photograph in front of the reception building of the PWR large component factory in Chalon St. Marcel – July 4, 2018